eNigel - Online apps for British Airways pilots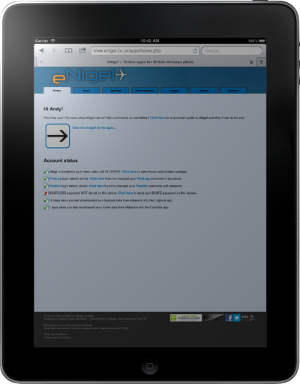 eNigel is a collection of online applications for British Airways pilots to help get the most out of their access to ESS including eMaestro, Crewlink, Staff Travel and FICO.
Registration
and access is restricted to serving British Airways Flight Crew only who have access to ESS.
What can eNigel do?
Get your roster onto your iPad, phone or computer - no importing files or copying and pasting...
Get a quick brief for your next flight...
Contact crew on a flight quickly and easily...
Calculate your overseas duty percentage for non-UK residents...
Find out your Maestro "bank" balance...
Check Open Time quickly and efficiently...
Get detailed information on staff travel loads and operating crew for your next trip on staff travel...
Maintain your logbook automatically - one click every couple of months does it all...
Export your logbook into a spreadsheet, LogTen Pro, PilotLog etc....
and more...
What else does eNigel offer?
Works on Windows, Mac, Linux, iPad, iPhone, Android and any other platform with a web browser
3 months FREE trial for new joiners to BA all users!
1 month FREE trial for all other users
Only £16/year annual subscription
OK, I like the sound of this! Where do I sign?
Click here
to register and get 3 months free trial.